20th Czech and Slovak International Conference on Number Theory
Hotel Academia, Congress Center of the Slovak Academy of Sciences, Stará Lesná
September 5 - September 9, 2011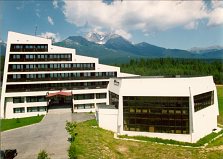 The Hotel Academia, where the Conference will be held




Panorama of the High Tatras
---
The Organizing Institutes
Institute of Mathematics, Slovak Academy of Sciences, Bratislava
Faculty of Electrical Engineering and Information Technology, Bratislava
Institute of Computer Science, Academy of Sciences of the Czech Republic, Prague
Department of Mathematics, Faculty of Sciences, Masaryk University, Brno
Department of Mathematics, Faculty of Sciences, University of Ostrava
Faculty of Science, University of Hradec Králové, Hradec Králové

The Second Announcement


Traditional the 20th Czech & Slovak International Number Theory Conference will take place in Congress Center of the Slovak Academy of Sciences in Stará Lesná, in a very attractive natural scenery of High Tatras in Slovakia.
The conference will cover the broad spectrum of topics of elementary, analytical and algebraic number theory and its applications.
Program.
The conference will begin on Monday, September 5 and will last till Friday, September 9. One afternoon (depending on the weather) is supposed to be free for those willing to make a trip to the mountains.
Expected arrival of participants is September 4, 2011, in the afternoon. The Conference will be closed on Friday, before lunch. It is possible to stay in Stará lesná up to Saturday.
We plan the sessions in the morning (9:00 -- 12:00) and in the afternoon from 15:00 till 18:00 (16:00 -- 19:00) with 45 minutes lectures or 20 minutes contributed talks. The program will be finalized during the conference according to the time possibilities and lecturers requirements.
Extended abstracts.
We plan to print the abstracts of talks and lectures (up to one page per talk) in advance. If you want to make your abstract available to the participants of the conference, send it before August 15, 2011, please.
Participants.
The following participants have confirmed their attendance on the conference: Participants
Papers from the conference.
Papers presented at the conference will be published in the journals Mathematica Slovaca (distributed by Springer, Impact Factor 0,316) and Tatra Mt. Mathematical Publications (abstracted by WOS).
Registration fee.
Registration fee is 250 EUR, 130 EUR for accompanying persons. The registration fee covers the costs of the conference, including the proceedings of the conference. Please pay by wire transfer, and please do not forget to pay the transfer fee as well. More precisely below.

Board and lodging.
We have booked a block of rooms in the Hotel (Congress Center) Academia.
The rooms will be given to participants on the first come first serve basis. Accompanying persons are heartily welcome.
The deadline for booking is August 10, 2011. After this date we have to release all unbooked rooms, if any.
Price for the rooms is 24 EUR per day. Participants are supposed to have 5 days, other number is also possible. Price for meal is not included in the registration fee.
Venue.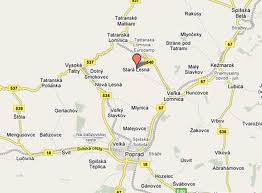 Stará Lesná is a village in the High Tatras, located about 15 km from the Poprad in north direction. You can go by car through Veľká Lomnica. It is approximately 8 km from Starý Smokovec and 5 km from Tatranská Lomnica. We can help you with the transport from Poprad upon request.
Timetable of public transportation you can find here. We have chosen some connections for September 4th and 5th, which you can find here.


Mobile telephone of K. Nemoga is +421 903 408 430. Tel. of the Institute of Mathematics is +4212 5751 0414, FAX +4212 5249 7316.
Payments.
We would prefer to make payments in advance.
Bank: Všeobecná úverová banka, a.s.
Address: Mlynské Nivy 1, 829 90 Bratislava, Slovakia
SWIFT: SUBASKBX
f/o: beneficiary's account number IBAN: SK83 8180 0000 0070 0000 7079
Mathematical Institute, Slovak Academy of Sciences, Štefánikova 49, 814 73 Bratislava, Slovakia
"variabilny symbol" or information to the beneficiary: 1240, and your name
Please pay by wire transfer, and please do not forget to pay the transfer fee as well.

We propose to participants to pay by bank transfer: registration fee 250 EUR plus 120 EUR (or 24 EUR x number of days) accomodationfor, i.e 370 EUR together. The difference in the payment for accomodation will be paid cash during the registration.


We recommend to make payment, by bank transfer. Invoice is possible to send upon request.

---
Last change: August 17, 2011
E-mail: Please enable javascript to see e-mail addresses.